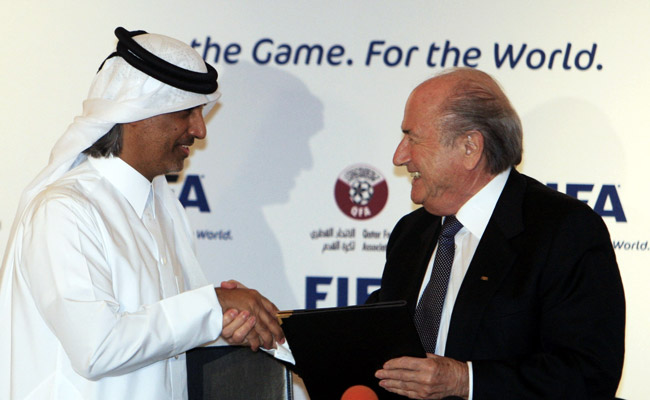 The president of FIFA, football's governing body, admitted on Monday that awarding the 2022 World Cup to Qatar may have been a mistake. Staging the tournament in the Middle East has caused much controversy because if it is held over its traditional dates in the summer months, players and fans will have to contend with searing 50 degrees Celsius heat. Some are now calling for the World Cup to be played during the winter months when the weather in Qatar is more suitable for a football match. However, this idea has drawn criticism because it would cause disruption to domestic league competitions in European countries such as Spain, England, Italy, Germany and France. In 2010, Qatar defeated bids from South Korea, Japan, Australia and the United States to win the right to host the football tournament for the first time.
Sports Illustrated
{http://soundcloud.com/langhub/football-world-cup-may-be}
Kata-kata penting:
Staging = menggelar
contend = bersaing, menghadapi
searing = panas membakar
suitable = cocok
disruption = mengganggu
---
2022 Football World Cup May be Played in Winter
Piala Dunia sepak bola tahun 2022 mungkin digelar pada musim dingin

The president of FIFA, football's governing body, admitted on Monday that awarding the 2022 World Cup to Qatar may have been a mistake.

Presiden FIFA, badan yang mengatur sepak bola dunia mengakui pada hari Senin lalu bahwa memilih Qatar untuk Piala Dunia 2022 mungkin sebuah kesalahan.


Staging the tournament in the Middle East has caused much controversy because if it is held over its traditional dates in the summer months, players and fans will have to contend with searing 50 degrees Celsius heat.

Menggelar turnamen ini di wilayah Timur Tengah akan menyebabkan berbagai kontroversi karena bila digelar pada waktu yang sama seperti jadwal biasanya yaitu di musim panas, cuaca di Qatar diyakini mencapai suhu lebih dari 50 derajat Celcius, para pemain dan penonton harus bisa menghadapinya.


Some are now calling for the World Cup to be played during the winter months when the weather in Qatar is more suitable for a football match.

Beberapa orang juga mengajukan pendapat untuk mengadakan Piala Dunia pada waktu musim dingin pada saat cuaca di Qatar lebih cocok untuk pertandingan sepak bola.


However, this idea has drawn criticism because it would cause disruption to domestic league competitions in European countries such as Spain, England, Italy, Germany and France.

Namun, beberapa negara Eropa seperti Spanyol, Inggris, Itali, Jerman dan Perancis kurang setuju dengan hal ini karena itu berarti harus mengubah jadwal kompetisi domestik mereka, sementara kompetisi regional juga pasti akan turut berubah.


In 2010, Qatar defeated bids from South Korea, Japan, Australia and the United States to win the right to host the football tournament for the first time.

Pada tahun 2010, Qatar berhasil terpilih sebagai tuan rumah yang pertama kalinya pada Piala Dunia 2022 menyisihkan Korea Selatan, Jepang, Australia dan Amerika Serikat .