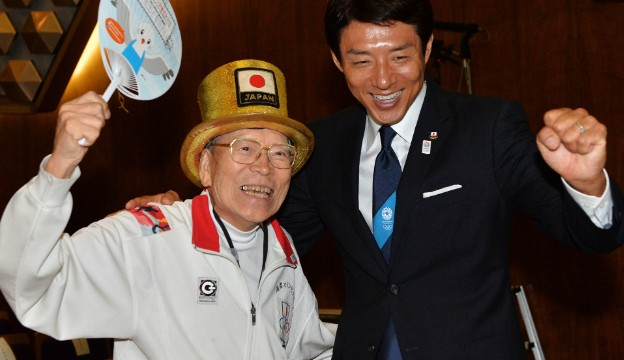 The International Olympic Committee has chosen Tokyo to host the 2020 Summer Games. Tokyo beat out two other contenders: Madrid, Spain and Istanbul, Turkey. Tokyo, which had previously hosted the Summer Games in 1964, was seen as a safe choice when compared with the other two cities. Madrid's big drawback was likely Spain's current economic crisis, with about a 25% unemployment rate for adults. Turkey's bid may have been hurt because the country shares a border with Syria, which is currently engulfed in a brutal civil war. Also, Istanbul experienced unrest this year when protestors trying to save an urban park tussled with city police. Turkey would have been the first Muslim country to host the Games, and with a median age of less than 30 years, one of the youngest.
CNN
{http://soundcloud.com/langhub/tokyo-wins-bid-to-host-2020}
Kata-kata penting:
contenders = lawan, pesaing
drawback = kekurangan, kelemahan
shares a border = berbatasan
engulfed = dilalap, benar-benar dikelilingi
unrest = kerusuhan
---
Tokyo wins bid to host 2020 Olympics
Tokyo memenangi persaingan menjadi tuan rumah Olimpiade 2020

The International Olympic Committee has chosen Tokyo to host the 2020 Summer Games.

Komite Olimpiade Internasional (IOC) telah memilih Tokyo untuk menjadi tuan rumah olimpiade musim panas 2020.


Tokyo beat out two other contenders: Madrid, Spain and Istanbul, Turkey.

Tokyo mengalahkan dua pesaing lainnya yaitu Madrid (Spanyol) dan Istanbul (Turki).


Tokyo, which had previously hosted the Summer Games in 1964, was seen as a safe choice when compared with the other two cities.

Tokyo yang sudah pernah menjadi tuan rumah olimpiade musim panas pada 1964 diperkirakan sebagai pilihan aman jika dibandingkan dengan dua kota lainnya.


Madrid's big drawback was likely Spain's current economic crisis, with about a 25% unemployment rate for adults.

Kelemahan besar Madrid kemungkinan disebabkan oleh krisis ekonomi Spanyol saat ini, dengan tingkat pengangguran sekitar 25% untuk orang dewasa.


Turkey's bid may have been hurt because the country shares a border with Syria, which is currently engulfed in a brutal civil war.

Upaya Turki juga tidak berbuah karena negara ini berbatasan dengan Suriah dimana saat ini sedang dikelilingi oleh perang saudara.


Also, Istanbul experienced unrest this year when protestors trying to save an urban park tussled with city police.

Selain itu, juga terjadi kerusuhan di Istanbul tahun ini pada waktu terjadi bentrokan antara polisi dan demonstran yang mencoba untuk menguasai taman di Instanbul.


Turkey would have been the first Muslim country to host the Games, and with a median age of less than 30 years, one of the youngest.

Turki sebelumnya diharapkan menjadi negara berpenduduk mayoritas Muslim pertama yang menjadi tuan rumah Olimpiade dengan rata2 umur penduduk kurang dari 30 tahun, salah satu yang termuda di dunia.